AJAX Scroller
This is demo page for AJAX Scroller, Joomla slideshow module. It demonstrates some of the possibilities of this powerful module for Joomla displaying articles, RSS feeds and Twitter updates.
Articles
Joomla! provides plenty of flexibility when displaying your Web content. Whether you are using Joomla! for a blog site, news or a Web site for a company, you'll find one or more content styles to showcase your information. You can also change the style of content dynamically…
Content articles, images off, bounce effect, horizontal scroll, navigation, autoplay on, read more link to the article [css]
Newsflash
Quis convallis et id Aliquam leo Vestibulum lobortis lorem fames orci. In in Curabitur nec neque dolor sem amet Phasellus Curabitur Curabitur. Nulla mattis Curabitur eget dolor Quisque…
The newsflash category, vertical scroll with expo effect, autoplay off [css]
Testimonials
Nullam fringilla tempor arcu eget ultricies. Phasellus purus risus, porta vel pretium tempor, cursus vel elit. Aenean justo felis, pretium at posuere id, suscipit molestie urna. Sed ornare pulvinar diam in semper. Donec…
Testimonials, random order, fade switch, no navigation, autoplay on, added background

[

css

]
Multiple Articles
All articles, 4 items displayed, stripped HTML tags, images on, horizontal scroll, navigation displayed, autoplay on, no loading image [css]
RSS
Register into multiple groups with AJAX Register 3.8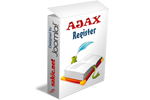 With the new version of AJAX Register you can allow users to register into multiple groups on your Joomla site. Upon registration, the user can now select multiple groups to be registered into and change the groups he belongs to afterwards. The admin can select which user groups are available for registration and they can be presented as checkboxes or multiple selection list.
RSS feed (http://www.sakic.net/rss/), title on, elastic effect, images displayed and resized, vertical scroll, navigation, autoplay off

[

css

]
Twitter

sakicnet
: @
ifootpathuk
No, AJAX Register will replace the default one. Why do you need both? 1256 days ago from
Twitter for iPhone
in reply to ifootpathuk
Twitter updates (http://twitter.com/sakicnet), title off, images displayed and resized, vertical scroll, autoplay on

[

css

]
OR