AJAX Scroller
This is demo page for AJAX Scroller, Joomla slideshow module. It demonstrates some of the possibilities of this powerful module for Joomla displaying articles, RSS feeds and Twitter updates.
Articles
Joomla! provides plenty of flexibility when displaying your Web content. Whether you are using Joomla! for a blog site, news or a Web site for a company, you'll find one or more content styles to showcase your information. You can also change the style of content dynamically…
Content articles, images off, bounce effect, horizontal scroll, navigation, autoplay on, read more link to the article [css]
Newsflash
Quis convallis et id Aliquam leo Vestibulum lobortis lorem fames orci. In in Curabitur nec neque dolor sem amet Phasellus Curabitur Curabitur. Nulla mattis Curabitur eget dolor Quisque…
The newsflash category, vertical scroll with expo effect, autoplay off [css]
Testimonials
Etiam nec nulla leo, sed feugiat libero. Pellentesque nec augue diam. Maecenas interdum venenatis erat eget faucibus. Nullam imperdiet tincidunt enim, semper pharetra urna pretium non. Integer mauris arcu, tempor at…
Testimonials, random order, fade switch, no navigation, autoplay on, added background

[

css

]
Multiple Articles
All articles, 4 items displayed, stripped HTML tags, images on, horizontal scroll, navigation displayed, autoplay on, no loading image [css]
RSS
Joomla 3.7 compatible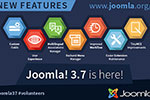 Joomla! 3.7 has been released bringing many features and improvements, including custom fields for articles and other content. Once again all our extensions are fully compatible with Joomla! 3.7. If you use our components and modules, you can freely upgrade to Joomla 3.7 and they will still work. Just make sure you upgrade directly to 3.7.1 as 3.7.0 contains a security vulnerability and you should avoid this version.  
RSS feed (http://www.sakic.net/rss/), title on, elastic effect, images displayed and resized, vertical scroll, navigation, autoplay off

[

css

]
OR