AJAX Scroller
This is demo page for AJAX Scroller, Joomla slideshow module. It demonstrates some of the possibilities of this powerful module for Joomla displaying articles, RSS feeds and Twitter updates.
Articles
Joomla! provides plenty of flexibility when displaying your Web content. Whether you are using Joomla! for a blog site, news or a Web site for a company, you'll find one or more content styles to showcase your information. You can also change the style of content dynamically…
Content articles, images off, bounce effect, horizontal scroll, navigation, autoplay on, read more link to the article [css]
Newsflash
Quis convallis et id Aliquam leo Vestibulum lobortis lorem fames orci. In in Curabitur nec neque dolor sem amet Phasellus Curabitur Curabitur. Nulla mattis Curabitur eget dolor Quisque…
The newsflash category, vertical scroll with expo effect, autoplay off [css]
Testimonials
Nullam in mi orci, et egestas lacus. Sed id sapien magna. In ornare, enim id sagittis sollicitudin, dui urna porta risus, at porta tellus enim at enim. Nullam sit amet pulvinar ipsum. Phasellus ultricies, ligula non…
Testimonials, random order, fade switch, no navigation, autoplay on, added background

[

css

]
Multiple Articles
All articles, 4 items displayed, stripped HTML tags, images on, horizontal scroll, navigation displayed, autoplay on, no loading image [css]
RSS
AJAX Infinity now compatible with Joomla 4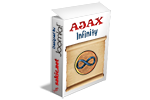 AJAX Infinity plugin is now compatible with Joomla 4. Now you can replace default pagination with infinite scroll on latest Joomla version. Enjoy auto-populating articles as you scroll down, instead of clicking on pagination links. This new version is also backward compatible with Joomla 3.x. Please request an update here if you are current subscriber. If you don't have an ongoing subscription you can get one here to get the latest and greatest features and support for another year.
RSS feed (http://www.sakic.net/rss/), title on, elastic effect, images displayed and resized, vertical scroll, navigation, autoplay off

[

css

]
OR